Lemon Grass
Storage :
In the shop: min 0°C – max 3°C
Ethylene sensitivity: High
Ethylene production: None
At home: min 0°C – max 3°C and keep in cool storage
Quality and Maturity :
Lemon grass is the main raw material for making of various kinds of foods such as, it is tamarind chili paste Spicy Chili Paste, Curry Making, etc.
Because lemongrass will help add good smell to food or that product.
Moreover, lemon grass is an important as a medicinal plant that nourishes the body because there are many adventage as well
How to Eat :
Using lemongrass to make essential oils, mixed with Carrier oil and applied to the skin will help relax the muscles. Cured from cramping.
To make a tea, Green apple lemongrass juice
To cooked for Thai Dish such as , Tom Yum Kung , Roasted Chicken with Lemongrass, Fresh Lemongrass Shrimp Salad
To quench the smell of fish and meat.
Availability Calendar Victoria
Jan Feb Mar Apr May June July Aug Sep Oct Nov Dec
TRANSPORTATION
PACKAGING
Prepared
50 g
125 g
250 g
Box
8
10
12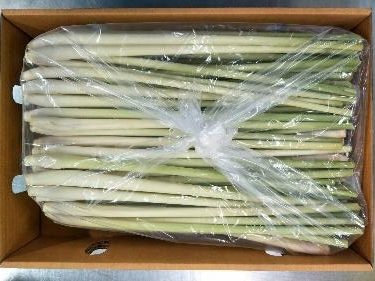 Loose Bag
1.5 kgs
2 kgs
3 kgs

Bundle