Carambola (Star Fruit)
Storage :
6-7 days at ambient temperature
Quality and Maturity :
Have smooth shiny light green or yellowish orange rind mild yellowish, juicy, crisp and sweet yet slightly tart taste, oval with 3 to 5 ridges along its length shape.
whole pod with peduncle intact, peduncle not longer than 0.5 cm
clean and practically free of any visible foreign matter
free of cracked pod
practically free of damage caused by pest affecting pulp quality
Preparation Eating and Usage
Cut the fruit in cross section,it will appear in star shape.
Eaten fresh, added in fruit salad, made juice, green salad desserts.
Availability Calendar Victoria
Jan Feb Mar Apr May June July Aug Sep Oct Nov Dec
TRANSPORTATION
PACKAGING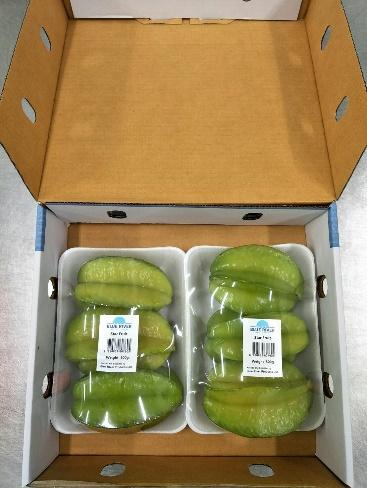 Loose – Box
2 Teay
Tray – prepared
500 g